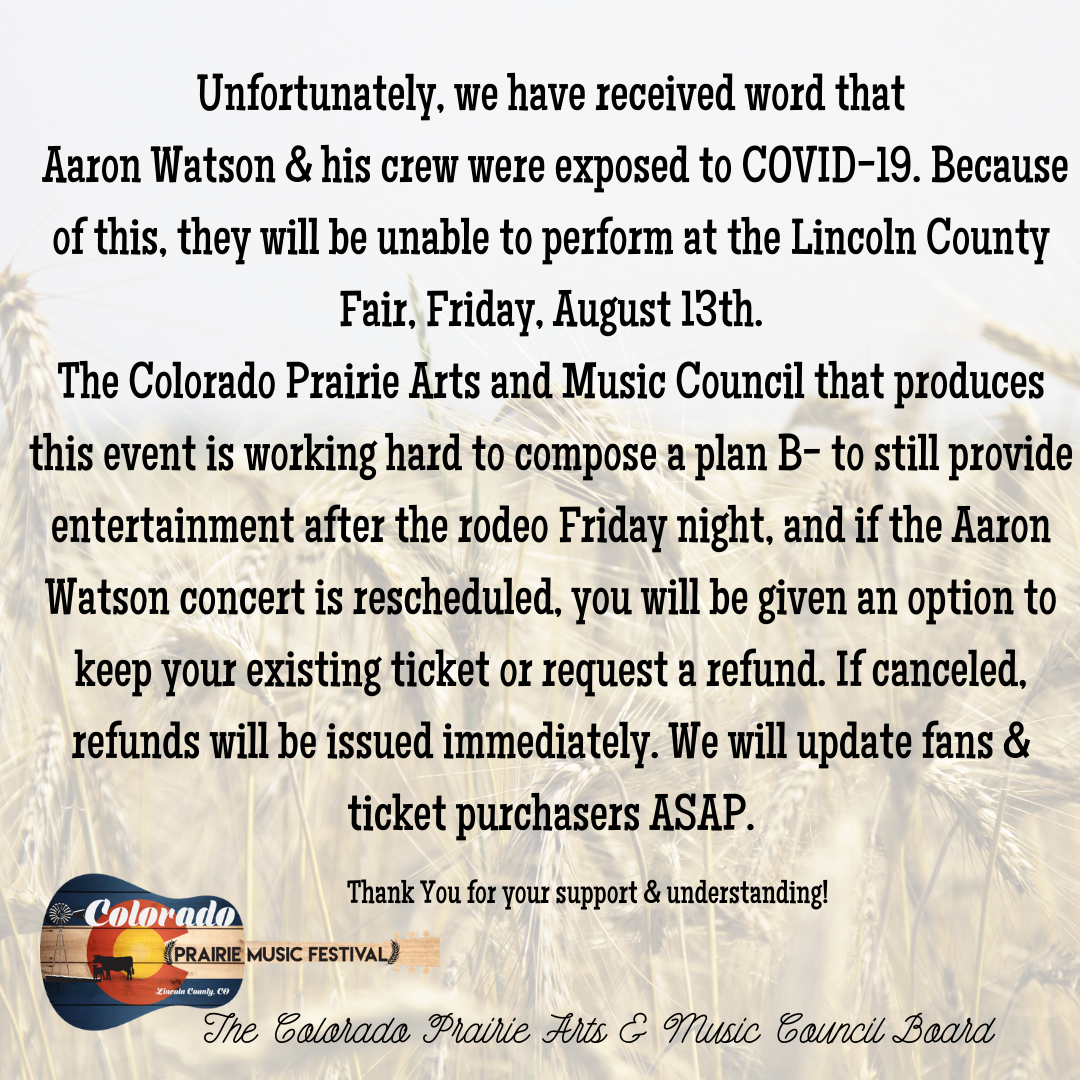 UNTIL FURTHER NOTICE OUR SHOW HAS BEEN POSTPONED- REFUNDS WILL BE ISSUED AS SOON AS POSSIBLE
Putting the Country back in Country Music- coming to Lincoln County August 2021
A warm summer night under the starry sky, great country music and a cold beer might not be the cure to all the world's problems- but it sounds pretty great to us right now! Ticket sales go live Friday, March 26 for Aaron Watson at the Colorado Prairie Music Festival after the rodeo Friday, August 13th at the Lincoln County Fair in Hugo, CO.
Colorado Prairie Music Festival is a program of the Colorado Prairie Arts and Music Council, a nonprofit organization in Lincoln County that has a mission of promoting and enhancing the arts in rural communities in Lincoln County and eastern Colorado. Follow the festival on Facebook and Instagram. www.coloradoprairiemusicfest.com
For information on where to eat, stay and play in Lincoln County, visit www.seelincolncounty.com.
Our headliner's independent Texas spirit and strong work ethic are emblematic of the western lifestyle; virtues which have taken him from humble honky-tonks to multiple sold-out tours around the world.
"The big Nashville labels turned him away, and the radio stations refused to play him at first, but now, with a number one album and the most loyal fan base around, Aaron Watson has become a country music sensation."- Texas Monthly
Singer/ Songwriter Aaron Watson has found success on his own terms, building a lauded career through relentless touring, songwriting hits that speak to his loyal fan base and dropping more than a dozen self-released albums. With influences from both his dad's worn out vinyl country music collection to the reverent hymnals he sang in church as a boy- Watson's style is as authentic as they come.
With a dozen additional records under his belt, Watson is exceeding major-label-sized metrics while maintaining his independence, further galvanizing his "Texas country's reigning indie underdog" (Rolling Stone) brand. "There may be no more genuine singer-songwriter at the moment than Watson, "says Texas Monthly, pointing to a self-made businessman, chart-topper, and road warrior whose authenticity has made him a country music staple.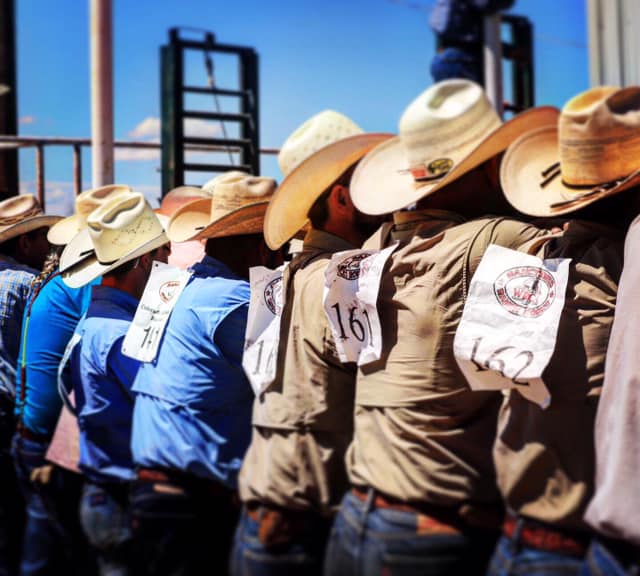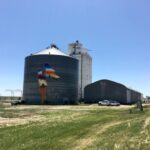 #painttheplains
Discover Some Girls and a Mural and their colorful art on grain silos, or bins, along the I-70 corridor to depict life as they know it in rural Colorado.
#paintheplains
Colorado Prairie Arts and Music Council
The Colorado Prairie Arts and Music Council (CPAM) is a start-up non-profit focused on hosting artistic and musically focused events and promoting and supporting programs that encourage growth in the arts in rural areas on the plains of Eastern Colorado.
CPAM has taken over the Colorado Prairie Music Festival Brand, and it is the council's goal to continue to bring top-notch entertainment to Eastern Colorado, starting in country music and branching out in the years to come.
In 2021, we are committed to providing programs focused on accessible art & music to enrich and expand the life of our communities.  By hosting successful mainstream events it is our goal to encourage growth of the arts in our rural communities, engaging in all activities that will further and are consistent with the mission of the council, including, but not limited to:
Art in our Schools- delivery of art supplies and pop-up art classes for schools without art classes and teachers
Public Art Displays
Public Music Performances
Public Cultural Exhibits
Presentations to Groups
Panel Discussions
Publication of Literature
Public Relations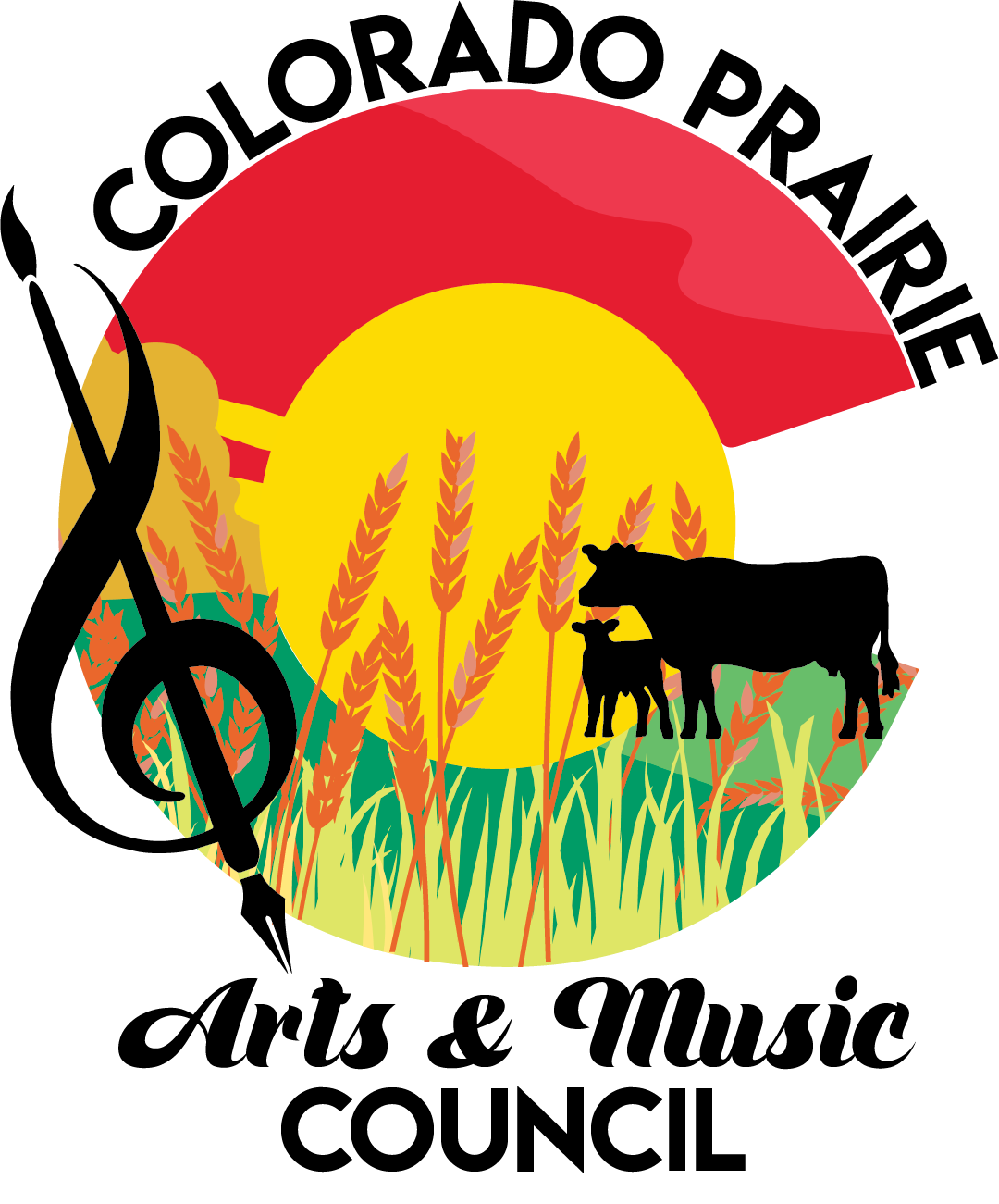 TICKETs on sale MArch 26
Get your tickets for Aaron Watson at the 2021 Colorado Prairie Music Festival during the FREE Lincoln County Fair & Rodeo
August 9- 14, 2021.
Lincoln County Fairgrounds at 33747 County Road 2W, Hugo, CO 80821
*Lincoln County is in the green on CDPHE COVID Dial- we currently have no restrictions on standing outdoor events. plan subject to change depending upon Colorado State Event Variance guidelines. Refunds will be issued should the event be cancelled due to State of Colorado and CDPHE COVID-19 regulations.